Our First Baby! "Apache"
My husband, daughter and I were browsing in the pet shop one afternoon, looking at the Budgies. My husband didn't seem impressed. None of them seemed to be "the right one". None of them seemed to "stand out" to my daughter either. I heard an excited cry from across the bird room. "Mom, LOOK!!!"
My daughter was pointing to a cockatiel, sitting alone in a cage. Such a pretty bird, a pied, with the sweetest little expression. I drifted over in a trance and said softly... "Oh... a cockatiel..... " The price tag was quite a bit heftier than the budgies of course, but I didn't even have to turn "puppy dog" eyes on my husband. He joined us at the cage and said "Now THAT is more like it. If you want to get a bird.. get something more "parroty". I reminded him that budgies ARE part of the parrot family but he sniffed and said "But that is more of what I had in mind!" Excitedly, I called my friend on my cell phone and went down over a "health" checklist with her. "Yes, the bird's feet were pink, vent was clean, nares were clean, not puffy, seems alert." (Honestly, I was grateful I had a friend who knew enough about birds so I could call her and check for signs of health before plunking down a chunk of money! A big THANKS to you! You know who you are!) My husband and daughter were running up the isles to get a cage and accessories selected while a staff member met me at the checkout counter with my new "baby" in a tiny take home cage. I named her "Apache" for her "mohawk" and her orange cheek patches. A-patch-ee. Soon, Apache was settling into her new home and cockatiel mania in my home began!
I adopted Neo a few short weeks after Apache joined our family. A nine week old baby, he had never been handled, nor had Jack and Ele (Neo's parents who my friend Christy adopted). He'd never been away from his parents either. He was so lonely for them at first, it nearly broke my heart. He was extremely wary of people but with that little lemon yellow mohawk and his pied markings, how could we not just love him to bits. After some deliberation on what to call him, my son decided his tummy looked like a bucket of swirled Neapolitan icecream. It "stuck" and the name was quickly shortened to "Neo".
Jack and Ele wasted no time settling into their new home at my friend's house and quickly started a new family! Within a month, they'd laid a clutch of four eggs, and 3 weeks later, 3 of the four hatched into healthy beautiful chicks! They were almost identical triplets! By this time, my friend's budgies had finally had some clutches of chicks too, so she offered my daughter her choice. She could choose either a baby cockatiel or budgie. Since we had two cockatiels already, my daughter decided she would like a tiel of her own.
Silver, all grown up with his pretty yellow face
Enter Silver! At the age of nine weeks, Silver came home. It was quickly learned that Silver was a "brother" to Neo as opposed to a "sister". Over the following months, Silver and Apache took a liking to one another and have now bonded as a mated pair.
Tiels are like potato chips! You can't stop at just one. (Or three for that matter). Next came Taxi. It was my hope that another hen might be good company for Apache since she was surrounded by boys 24/7. Taxi is a complete Momma's girl though, and so far, Apache remains strongly attached to Silver, but Neo as well. That's okay though! Taxi gets lots of Mom love....
Taxi posing sweetly so Mom will take her out of the cage
Teika and Trinny hanging out on my knees
and two new cockatiel friends! Teika and Trinny joined the flock just a couple of weeks ago! Lovingly rehomed (Mom, Mindy still keeps in touch with these gals), Teika and Trinny made a ten hour trek via car to live with me. Its my hope that Teika and Trinny will offer some companionship for Taxi (who is somewhat excluded from the Neo-Silver-Apache circle) as well as find joy in their new home!
In late October 2005, just before Halloween, Buzz joined our family when a coworker of my husband's needed to rehome his four year old cockatiel. Alas! A male to even out the balance of hens! And a beautiful specimen he is. A whiteface like Teika! (wiggles eyebrows). Perhaps they will hit it off? Not likely since Teika and Trinny are so bonded, but one can always dream of the pretty babies they would make.. now can't one?
Keep Current with the Flock! You can read all about Patchie, Neo, Silver, Taxi, Teika, Trinity & Buzz at Tiel Tales, their very own, up to the minute BLOG!
Please Feel Free To Email Me!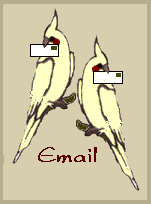 Please Take A Moment To Sign My Guest Book

view my guestbook | sign my guestbook
get your free guestbook